Description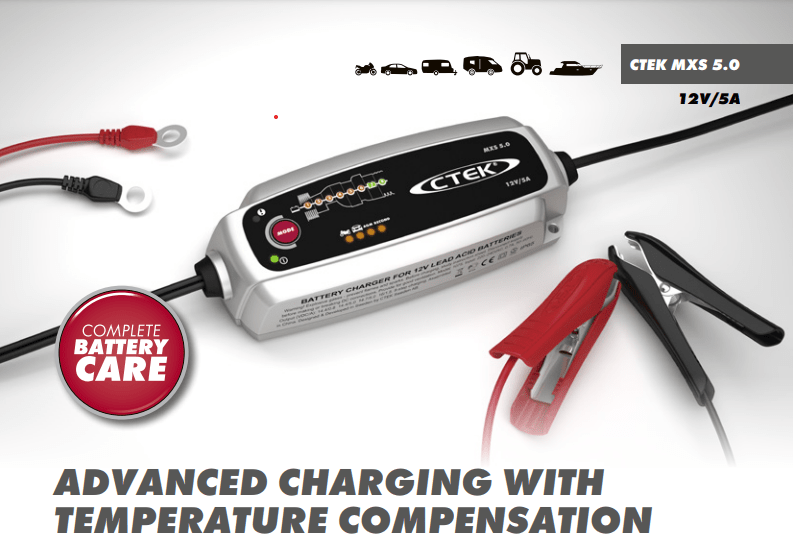 The MXS 5.0 comes with automatic temperature compensation for the best charging performance, even in extreme conditions.
The MXS 5.0 also includes battery diagnosis to establish whether your battery can receive and retain a charge, a patented automatic desulphation program, an AGM option which maximises the performance life of most Stop/Start batteries and a special Recond mode for reconditioning deeply discharged batteries.
The MXS 5.0 uses CTEK's patented float/pulse system, which is the most efficient maintenance mode when a battery is connected for long periods.
Features
Charges batteries up to 110Ah
Easy-to-read LED display
Splash and dust proof (IP65)
Safe spark-free operation
Reverse polarity protected
Short circuit proof
TECHNICAL DATA
Input: 220–240 VAC, 50–60 Hz, 0.6 A
Output: 14.4/14.7/15.8 V, 5.0 A
Battery capacity: 1.2–160 Ah
Charging category: AC charging
Back current drain*: Corresponding to less than 1 Ah/month
Battery voltage: 12 V
Battery chemistry: Lead acid
Ambient operating temperature: -20 ˚C to +50 ˚C
Start voltage: 2.0 V
Ripple**: Less than 4 %
Battery types: 12 V:; WET; MF; Ca/Ca; AGM; GEL
Degree of protection: IP65
*) Back current drain is the current that drains the battery if the charger is not connected to the mains. CTEK chargers have a very low back current.
**) The quality of the charging voltage and charging current is very important. A high current ripple heats up the battery which has an aging effect on the positive electrode. High voltage ripple could harm other equipment that is connected to the battery. CTEK battery chargers produce very clean voltage and current with low ripple.