Description
The law requires that license plates should be displayed on your registered vehicle and that they are clearly visible from a distance of 20 metres. If your number plate is lost, damaged or otherwise, you can order a new official standard-issue replacement license plate from us.
As an official JPD vendor, Seng Hoe Huat is an appointed representative for the supply and installation of small-sized vehicle registration plates. We use high-quality material and use durable white colour for the letters and numbers ensuring that your license plate replacement meets the required JPD specifications!
ORDERING STEPS
Leave your details at Order Notes during checkout. Our staff will call you the soonest to confirm the order and information provided. Details in Order Notes MUST include:
Vehicle Registration Plate number

Owner information:

Branch location for Self-Pickup:

Tutong Branch

Sengkurong Branch

Kiarong Branch

Serusop Branch

Melabau Branch

Gadong Branch

Sumbangsih Branch
See below for the format and example:
License Plate No.: BAA0000
Name: Awang Budiman
Phone Number: 673 XXX XXXX
Self-Collection: Gadong Branch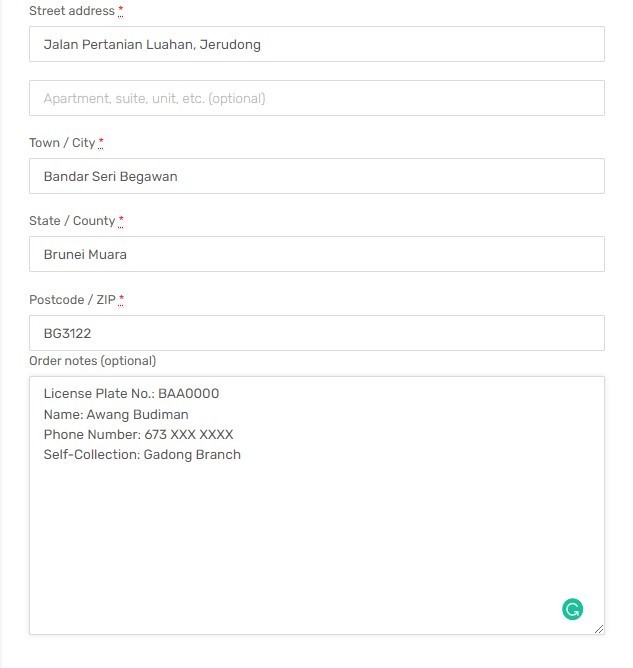 INFORMATION ON DELIVERY
Self-pickup is free. At the cart or checkout page simply enter the coupon code: SELFPICKUP

Same-day self-pickup is only available at our Gadong Branch during operating hours. 

For self-pickup at other branches, the license plate will be ready for collection as early as the next working day during operating hours.

For all self-pickup orders, please wait for a call from SHH when the replacement license plate is ready for collection.

Delivery to an address in Brunei may take up to 2 – 3 working days.

In the event of a long waiting queue, please allow us up to 48 hours to prepare your replacement license plate.

Orders made during or on public holidays will be processed on the next working day.
HOW TO USE COUPON CODE FOR SELF-PICKUP ORDER
CART PAGE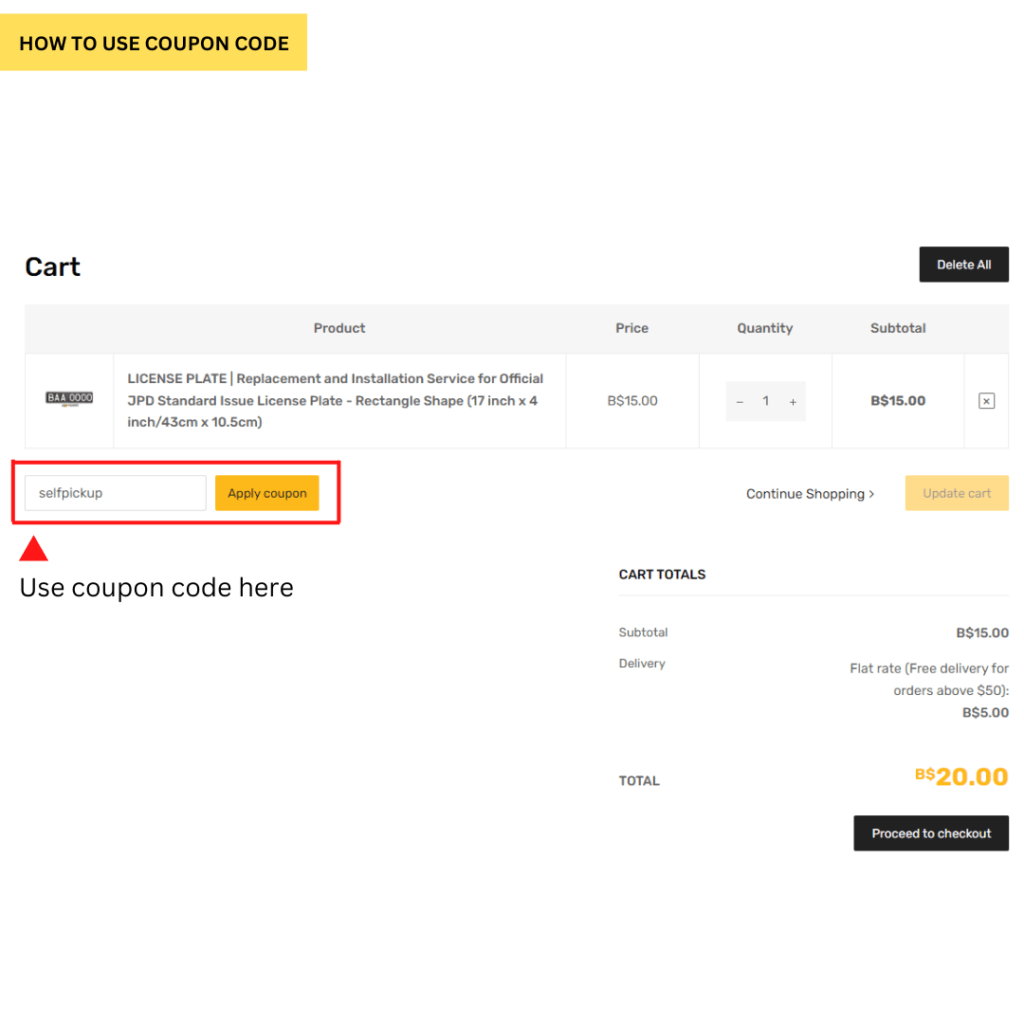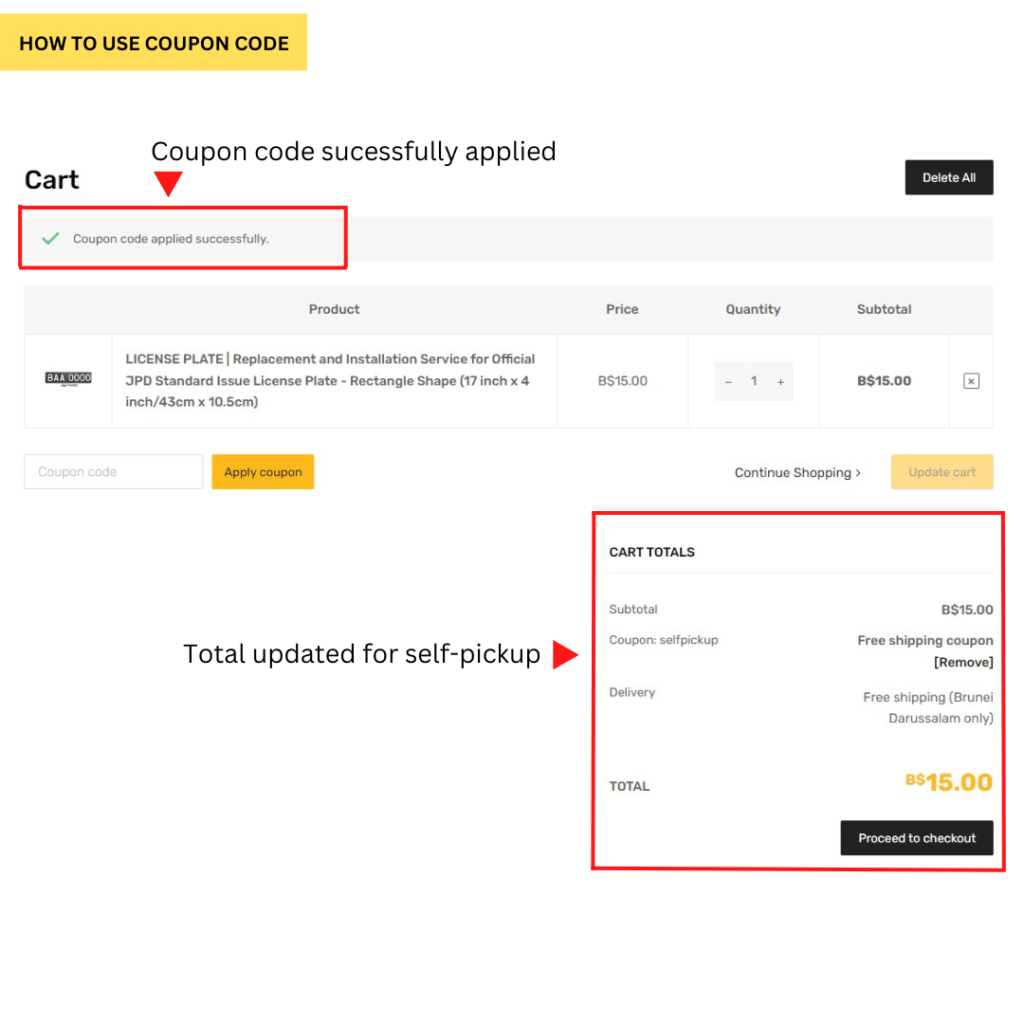 CHECKOUT PAGE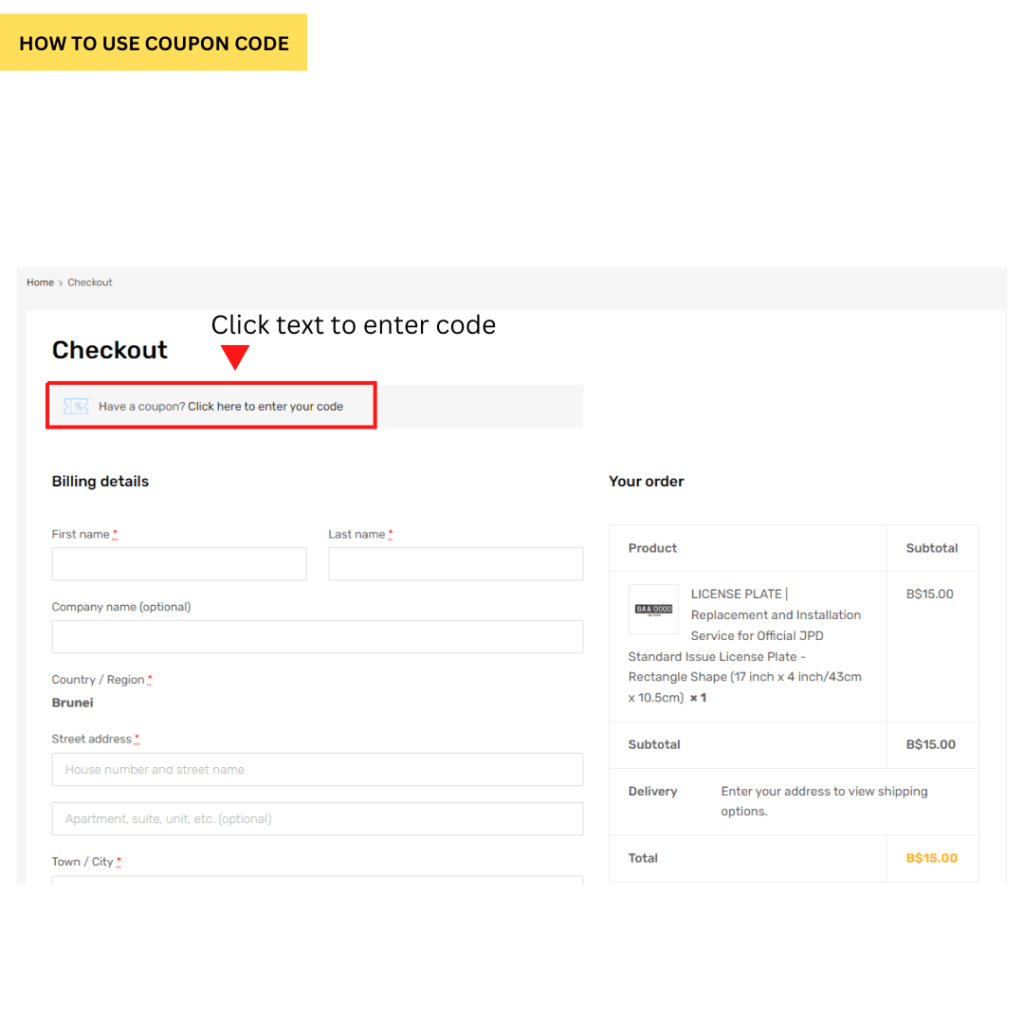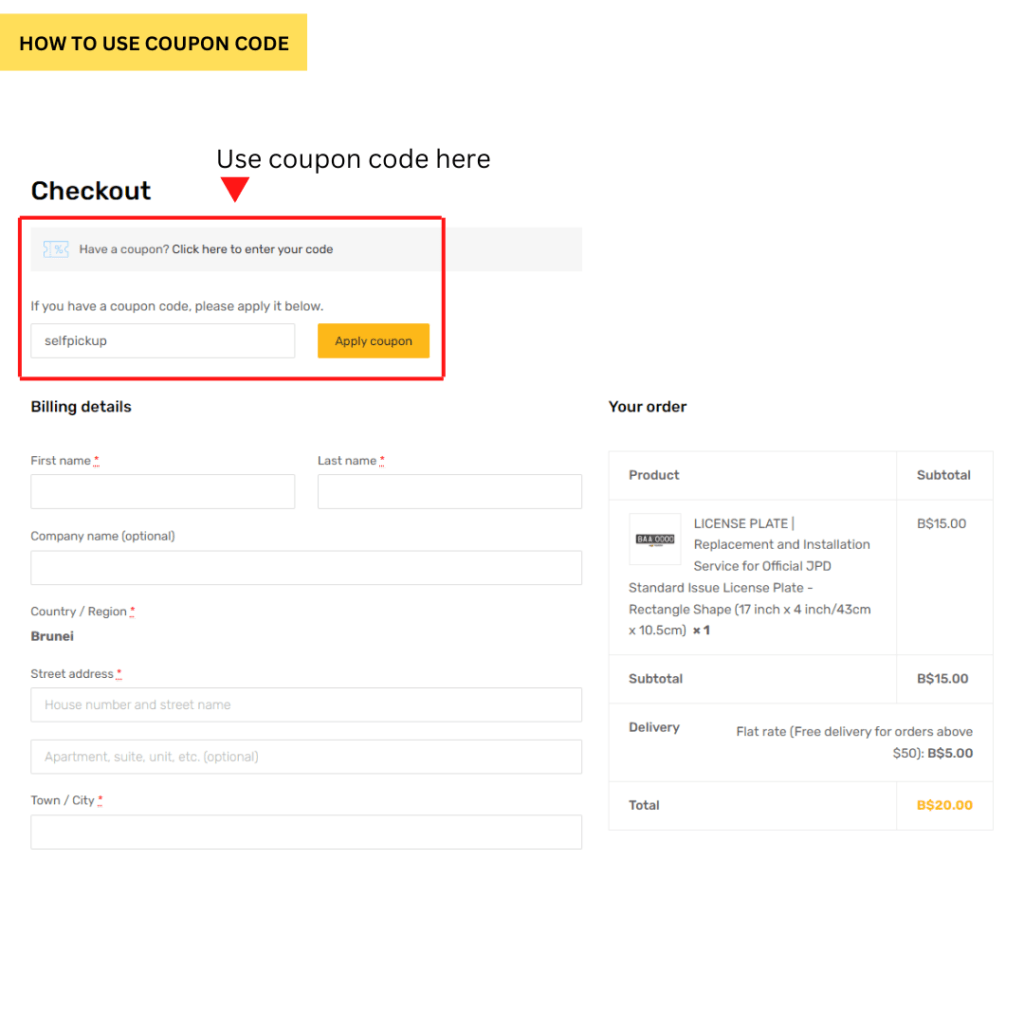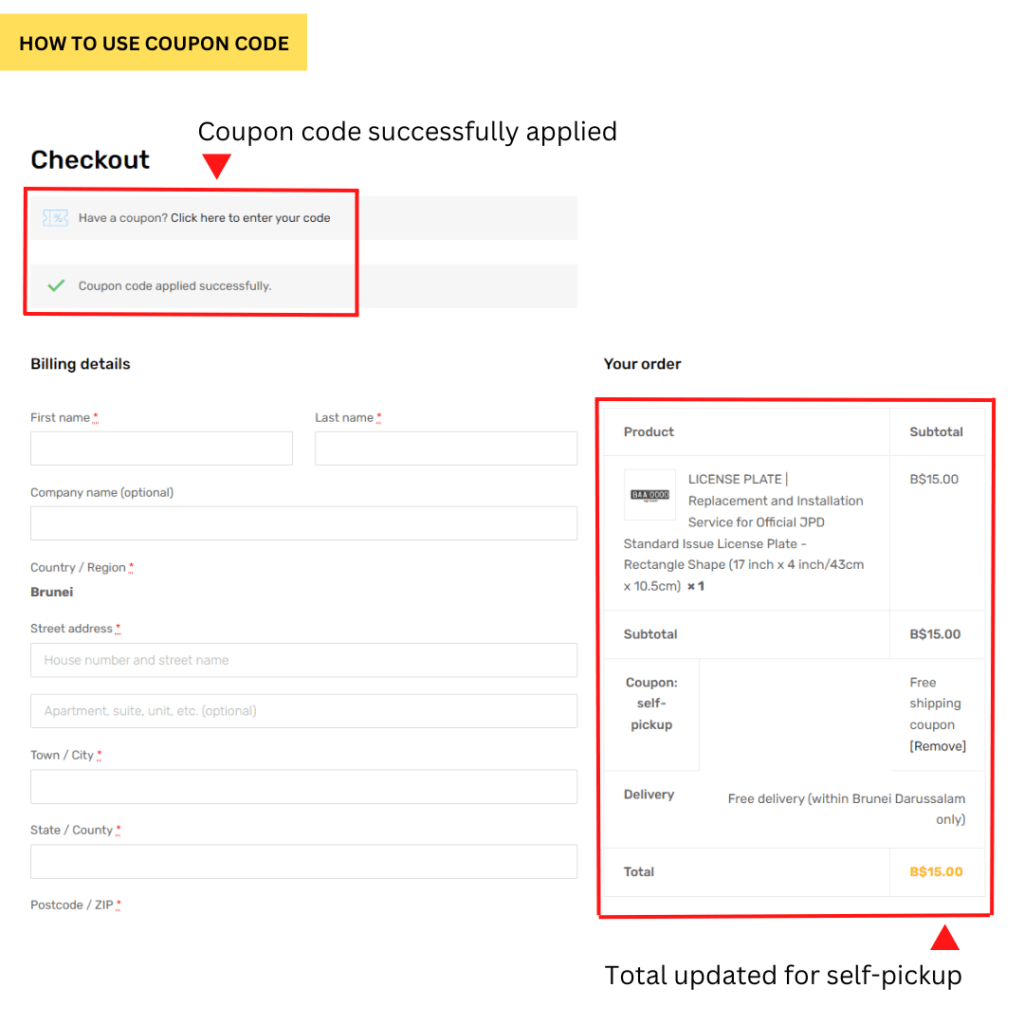 BRANCH

SELF-PICKUP SCHEDULE

Gadong

Same day during operating hours.*

Kiarong

Next working day during operating hours.*

Sumbangsih

Melabau

Serusop

Sengkurong

Tutong
*For all self-pickup orders, you will be notified by a phone call from SHH when your license plate(s) are ready for collection. Online orders made after operating hours will be processed on the next working day.
JPD APPROVED SPECS
Plate size: 8 1/2″ x 13 1/2″ or 21″ x 6″

Number size:  3.5″ x 2.5″ x 0.625″

Colour: Black background and White lettering

Material:  Aluminium and the identification mark embossed